Wish you all a Very Happy and Prosperous New Year !!!!

Chinese food is that kind of food which is liked by all throughout the world. You will get a rare restaurant or hotel that not served the Chinese food.No Chinese meal is complete without fried rice or steamed rice.

Ingredients:

2 Cups Rice
3 tbsp oil
100 gms beans finely chopped
2 Spring onions finely chopped
2 carrots finely chopped
1 onion sliced
100 gms cabbage finely chopped
2-3 green chillies cut lengthwise
1 tsp garlic finely chopped
2 tbsp soya sauce
salt and pepper to taste
1 cup Rice = 1 1/2 cup water



Method:-

Pick, wash and soak the rice in enough water for 10-15 minutes and drain.

Boil water, add rice and little salt.

Cook uncovered on low heat till rice is tender.

Cook the rice until just done, take care not to overcook the rice.Each grain of rice should be separate and immediately spread on a plate to cool. Cook rice in Micro oven for 13 minutes or in cooker for 8 mins.Rice should be 70% cooked only.

Heat oil in a wok and when hot, drop the ginger and garlic in.

When light brown, increase the heat and start adding the vegetables, stirring vigorously. Put in the hardest vegetables first, followed by the lighter ones by turn, after about half a minute of stirring for eg., carrots will go in first, followed by beans and then cabbage and spring onions.

Take care that vegetables are not overdone, they should be crisp.

Mix salt and pepper to taste.

Add the cooked rice and mix well so that the colour is well absorbed. Now mix the soya sauce to it.

Cook the Chinese fried rice for 2-3 minutes and serve hot.
Tip:- To keep the rice grains separate, spread the cooked rice grains on a tray and allow it to cool. Rub a little oil on the cooked rice and keep aside till you require it.
This is my contribution for JFI-Soya hosted by Sia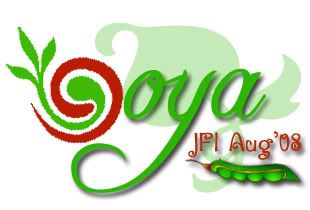 And now,its time to show off our fridge for my favorite event "Fridge Magnets" hosted by
Vedha Murthy of Iyengarskitchen
.
16 Comments:
9 August 2008 at 15:31

 

lokks delicious..good one..

9 August 2008 at 16:13

 

this one looks nice,..looks good,..for the event

9 August 2008 at 21:51

 

Looks gr8. New to me, i will try it out.

9 August 2008 at 22:33

 

fried rice looks so perfect hey somthing is waiting for you in my blog go and collect it

10 August 2008 at 01:51

 

looks perfect..am a chinese lover...

10 August 2008 at 02:28

 

i appreciate u sireesha...being vegetarian u r commenting on non veg recipe...thank u

10 August 2008 at 03:06

 

luv fried rice n fridge magnets are cute

10 August 2008 at 03:11

 

The rice looks delicious, i love the key chain i too have but without magnet :)

10 August 2008 at 05:32

 

fried rice is looking so good and delicious and fridge magnets are also looking good!

10 August 2008 at 07:04

 

hi sireesha....thats a beautiful set of magnets there....wow...i have the same swiss cow bell...but i did not know it comes like that in a magnet too...its just too good!thanks again for participating!

Veda

10 August 2008 at 11:54

 

yummy fried rice! So tempting! YOu have a nice collection of magnets. Is Shrija your daughter's name? I love that name.

10 August 2008 at 16:13

 

hey i cooked chinese fried rice on thursday.....:)
ur magnet collection is just awesome..
and i ve dat bell keychain too...whic h I picked up from Switzerland...

10 August 2008 at 17:02

 

I have something for you in my blog..Do check it out !!

11 August 2008 at 02:06

 

Fried rice is one of those dishes I could eat daily :) I'm inviting myself over.

11 August 2008 at 11:19

 

Delicious fried rice and you got very nice collection of magnets...love them all...so cute

11 August 2008 at 14:21

 

Hi ,
fried rice looks yum and thank u so much for the tip...