Wish you all a Very Happy and Prosperous New Year !!!!

Poori Bhaji is a very famous dish that can be found on almost all festive occasions. Be it a puja, party, picnic, family gathering or a holiday afternoon, poori bhaji marks its presence on each and every occasion. It is the popular Indian meal served with spicy potato vegetable. Poori bhaji is the best of all Indian take-aways, on journeys, picnics etc.It is a great meal at breakfast or brunch or lunch.It is not only very delicious, but also quite simple to make.No one can resist the temptation of eating tasty poori bhaji.The dish is a hit with children and adults alike and very easy to come up with, when guests pop in suddenly.

Ingredients for Poori:-

2 cups atta (Indian-style whole-wheat flour)
1 tsp oil
oil for deep frying
a pinch of sugar
Salt to taste

Method:

Mix all the ingredients in a large bowl. Add warm water little by little to make a smooth but *firm* dough (firmer than regular roti dough). Let the dough relax for 30 minutes in the covered bowl. Then take about a tablespoon of dough at a time, roll it into a thin circle (using some more atta to help in the rolling process),Heat oil in wok / Kadai and when it is hot,slide one poori in from the side.Press down with the slotted spoon to allow it rise completey and then turn over and cook the otherside until the poori is puffed and golden on both sides. Drain well on some paper towels and serve hot.
Serve the poori hot with pindi choley or Aloo Bhaji or Shrikhand .

Tip:-

Do not roll it out too thin.
When u prepare batter for poori, add a pinch of sugar along with the salt in the flour. You will get puffy pooris.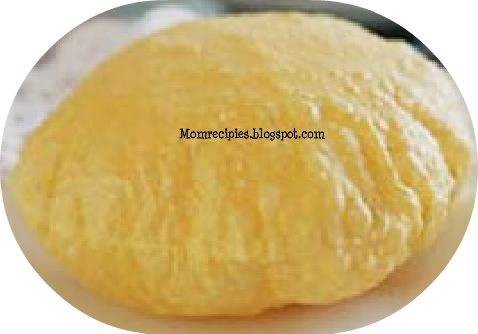 Ingredients for Bhaji :-
2 Potatoes (boiled)
1 Chopped onion
1 chopped Tomato
4 green chilies paste
1 tsp. Ginger-garlic paste
3-4 pinches Turmeric powder
1 tbsp. Oil
A pinch of Hing
1 tbsp. Coriander finely chopped
1/2 tsp. Cumin seeds
1/2 tsp Mustard seeds
Few curry leaves
Salt to taste
Method:-
1) Heat oil in a pan, put the mustard seeds and cumin seeds and allow it to splutter.
2) Add the chopped onions and sauté it till it becomes golden brown.
3) Add the curry leaves, ginger- garlic paste,and chilly paste ,Hing and fry it for a minute.
4) Add tomatoes and cover the pan till the juice makes a paste of the mixture.
5) Peel the potatoes and crush them with hand and add to the mixture.
6) Add salt and turmeric .
7) Add water and let it simmer on low heat for 5-10 minutes..
8) Transfer to bowl, garnish with chopped coriander leaves.
9) Serve hot with pooris.
Popular Accompaniments:
1) Poori bhaji also goes well with shrikhand or flavored fruit or plain yogurt and definitely some hot, spice tea.
2) Instead of poori, you can serve the Bhaji with bread too.
3) Poori can aso be served with with pindi choley.
27 Comments:
15 September 2009 at 22:16

 

I love pooris! Yours look wonderful!! The potato side sounds so flavorful.

15 September 2009 at 22:31

 

Very soft....yummy

15 September 2009 at 22:32

 

I Love poori :)nice tempting pic

15 September 2009 at 22:35

 

yummy sireesha. Thanks for the tip too...

16 September 2009 at 01:05

 

Love pooris... looks very tempting... feel like having some now :)

16 September 2009 at 01:08

 

Its been a long time since i had poori n bhaji....thanks 4 reminding...this time will surely try ur version of bhaji...

16 September 2009 at 02:12

 

Fluffy poori looks yummy, send me that plate, am hungry now..

16 September 2009 at 02:33

 

Yummy, Sireesha!Can you believe my pooris always turn out crunchy..I could grab one of those:P

16 September 2009 at 03:08

 

wow fluffy poori.Never knew the tip of adding a little bit sugar to the flour to get fluffy pooris.Will try when i make next time.Bhaji is tempting.

16 September 2009 at 06:17

 

Very tempting picture of the poori! Looks great!

16 September 2009 at 07:11

 

are jabardast... nic fluffy and crispy...

16 September 2009 at 07:25

 

My favorite combi!

16 September 2009 at 08:19

 

Plate is looking yummmmm.....

16 September 2009 at 09:10

 

nice combination with potato curry..moutherwatering sireesha

16 September 2009 at 09:20

 

potato bhaji sounds good...will try urs next time...look delicious

16 September 2009 at 10:45

 

Love poori's..looking yummy..nice tip of adding sugar

16 September 2009 at 12:06

 

ur pic is mkin me hungry

16 September 2009 at 17:07

 

Wow that puri has really puffed up. Delicous.

16 September 2009 at 18:21

 

Poori looks great! Do check Dubai Palm islands tour in my World food treat blog..!

16 September 2009 at 18:25

 

Looks absolutely lovely.

16 September 2009 at 18:59

 

Yummy clicks dear....that plate looks so tempting :)

16 September 2009 at 19:32

 

Yummy breakfast or snack :)

16 September 2009 at 22:16

 

i love that picture of puffed poori..looks yumm..

16 September 2009 at 22:55

 

Lovely menu dear. Poori with bhaji makes me drool:)

17 September 2009 at 15:25

 

Wow Poori with potato, its a yummy combo. Looks delicious.

18 September 2009 at 02:31

 

Real puffy one :)

22 July 2013 at 14:20

 

This is the bessttt puri bhaji recipe ever!!

I've made it numerous times n its spot on
Even the puris are relli puffy and good in taste

Amazinggg recipe